Service Overview
Service features

Door-to-door delivery to over 220 countries and regions worldwide is available.
For the convenience of users, prices are divided into 8 delivery regions, calculated in increments of 0.5 kg of gross weight for either our small parcel or document courier service.
The same prices are applied to international deliveries wherever they are sent from in Japan.

Customers who are eligible

Sender
Corporations・Individuals

Personal use is limited to customer who has already acquired Sagawa Express customer code.
If you would like to know more or wish to acquire your own customer code, please contact our sales office.

Destination
Corporations・Individuals

Delivery to individual customer who lives in Russia or Brazil is not available.

Available Package Size

The service is available for parcels up to 260cm (total dimensions of 3 sides) and up to 50kg per parcel.

However, in the case of multi-item dispatches, a total weight limit of 500kg is applied.*Please contact the Global Call Center (0120-18-9595) to inquire about baggage exceeding the above limits.

Rates

Transport fees for small parcels (small business packages) and document courier (business documents) vary by destination area (country, region), gross weight including packaging, and the dimensions of the package. Please check the Zone Chart and Price List for more details.

Payment Method

Prepayment (accounts receivable)
Monthly invoice will be issued to sender.
How to Use
1. Select a Service
Two types of service are offered through Hikyaku Global Express: small parcels (small business packages) and document courier (business documents). Please select the appropriate service type for your package.
Small parcel (small business package) service


This is a small parcel transport service for the global delivery of product samples (commercial value or no commercial value), spare parts, high-value products, etc.

Booklets are classed as small parcels.

Document courier (business documents) service


This service offers delivery of business documents, as well as catalogues attached to these documents, periodical publications and other printed materials.
2. Prepare Necessary Documents
Fill in a Hikyaku International Express delivery form and Hikyaku International Express invoice (written in English).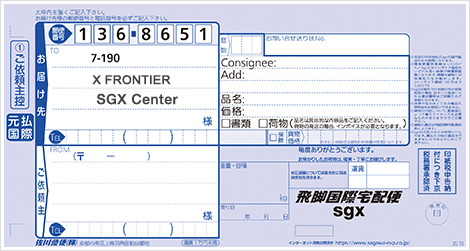 For each parcel with commercial value, three copies of the invoice (written in English) need to be prepared by the customer.
For invoices, use your company's letterhead or download and fill out a commercial invoice format from this website.
Please fill the invoice out using Excel or Word.
The commercial invoice is an important document required by customs law to send goods overseas. Customs authorities need it for customs clearance purposes.
An accurately filled-out commercial invoice provides the basic information needed for preparation of customs clearance documents related to the shipment.
This information is also used by the customs authorities of the importing countries to carry out accurate investigations into tariffs and import applications.
3. Request a Pickup
Please contact a sales office.
A sales driver will come to collect your packages.
Notes on Use
Precautions
Hikyaku Global Express is limited to packages for which payment is made in Japan (payment by sender).
Sizes handled
Delivery is available for packages up to 260 cm in total dimensions of the three sides (up to a length of 150 cm) and 50 kg. There is a total weight limit for multi-item consignments of 500 kg.
Prices increase every 0.5 kg
Prices include collection charges, air freight and customs handling fees, etc. However, costs arising in the recipient country in special circumstances (costs related to customs inspections and consignments, etc.) shall be paid by the recipient.
The larger of the package's volume or weight shall be applied when calculating the price.
*In accordance with IATA (International Air Transport Association) regulations, when the package's volume weight exceeds its actual weight the price shall be calculated based on the volume weight.
Actual weight is the actual weight of the whole package including the packaging.
Volume weight: the weight calculated using 1 kg for every 5,000 cm3 of the package's volume (5,000 cm3/1 kg is the IATA volume standard)
<Calculation method>
Volume weight (kg) = length (cm) × width (cm) × height (cm)/ 5,000 cm3/ kg (fractions are rounded up to the nearest 0.5 kg)
Dimensions of 60 cm × 45 cm × 35 cm (rounded to the nearest whole number)
For a package with actual weight of 12 kg, the price would be calculated based on 19 kg using the volume weight of 60 × 45 × 35/ 5,000 = 18.9 kg.
Any duty arising in the country of destination shall be paid by the recipient.
Depending on the content of the package and the country of destination, there are cases when it is necessary for the recipient to submit documentation (import license, processing notebook, passport, visa, etc.) for customs clearance purposes in the country of destination. Any additional costs related to the submission or presentation of these documents (travel costs, miscellaneous expenses, etc.) shall be paid by the recipient.
Any costs incurred when return delivery of the package is requested, such as when a recipient refuses to accept delivery, when duty payment is refused, or when it is not possible to clear customs, shall be paid by the sender.
The limit for compensation for damaged or lost packages shall be US$20.00 per 1 kg, per delivery form.
We recommend taking out marine freight insurance for valuable packages.
(3,000 yen up to a freight value of 1.5 million yen, and 20 yen for each additional 10,000 yen of cover)
There are cases when it is not possible to send some products to some destinations because of conditions in the respective countries.
Please be aware that in some regions we are not able to send packages addressed to individuals.
Items that cannot be sent using Hikyaku Global Express
1.Cosmetics
Soap, shampoo, rinse, treatment, foundation, lipstick, nail polish, perfume, eye shadow, and other items applied directly to the skin
2.Print media
Pornographic magazines and related books and media with recorded images, paintings, sculptures, items that cannot be reissued (visas, etc.), confidential correspondence (letters, copies and extracts of family registers, contracts, certificates, etc.)
3.Organisms
Animals, insects, fresh flowers, dried flowers, potpourri, cut flowers, seeds, seedlings, fruit, spices, ivory, shark fins and other animal parts, remains or ashes, animal feces and urine and other by-products, body fluids, etc.
4.Foodstuff
All food products (fresh foods, processed foods, health foods, dry foods, canned foods, beverages, alcoholic beverages, supplements)
5.Valuables
Cash, securities, stock certificates, passports, unused stamps, stamps, precious metals (gemstones, diamonds, platinum, gold, silver, etc.), national treasures, important cultural properties, important art objects, naked precious and semi-precious stones (whether cut and polished or not), bullion of any precious metal
6.Dangerous articles
Handguns, firearms knives, bullets, jumping knives, fireworks, aerosol sprays, explosives, flammable materials, matches, lighters, gas canisters for lighters, car wax, engines, printer toner, nail polish, perfume, lithium ion batteries
7.Chemicals
Toxic substances, poisons, deleterious drugs, marijuana/narcotics, stimulant drugs, etc.
8.Medicine
Medications (drugs to be taken, over-the-counter medicine, prescription drugs, application)
9.Intellectual property rights
Counterfeit currency, imitations, articles that infringe on patent rights, utility model rights, trademark rights, or copyrights, etc.
10.Washington convention
Items regulated by export bans based on the protection of endangered animals and plants (leather handbags, belts, ivory, etc.)
11.Others
Telecommunications equipment (computers) and precision equipment

*

, used equipment, moving cargo, unaccompanied baggage, items that cannot be transported or are deemed inappropriate, musical instruments, cigarettes, electronic cigarettes, surfboards, gambling items, and other items required by law.
*
For communication and precision equipment, we may ask you to present a Certificate of Non-Applicability. In addition, lithium-ion batteries cannot be accepted for consignment.
Please contact our Global Call Center (0120-18-9595) if you want to send any of the following.
Textiles to Europe (Textile License and certificate of origin are required.)
Textile visa for the United States (Specific description of items, country of origin, name of manufacturer and address, etc. must be stated.)
Eating utensils and toys, etc. to the United States (FDA registration is required.)
Electrical products to the United States (FCC registration is required.)
Musical instruments, art objects
Details of Hikyaku Global Express fuel surcharge
Sagawa Express has had to deal with an increase in aviation fuel caused by soaring crude oil prices.
However, the increased price of crude oil prices brought about by international conditions in recent years has now surpassed Sagawa Express' ability to respond and it has become difficult to maintain services for our customers.
Accordingly, a fuel surcharge of 10% of the transportation price was applied to all shipments from September 21, 2005 onwards. Your understanding of this situation is greatly appreciated.
Please ask our Global Call Center if you have any inquiries.
Sagawa Express will provide a better-than-ever service as we seek to achieve transportation quality in a way that repays the trust placed in us by our customers. We are extremely grateful for your understanding of the situation and for your ongoing patronage and support.
Contact
Global Call Center(Japanese)
| | | |
| --- | --- | --- |
| Phone number | : | 0120-18-9595 |
| New business hours | : | 9:00am to 6:00pm (Mon - Fri) (Closed Weekends and Public Holidays) |